Loprox® Topical Suspension Kit & Loprox® Topical Suspension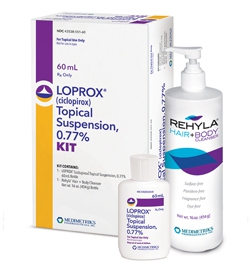 Click Here
to print your
Instant Rebate*
*Maximum benefits apply.
See program rules and eligibility requirements on rebate
(limit of 6 prescriptions)
Broad Spectrum Antifungal
Loprox®(ciclopirox) Topical Suspension, 0.77%
Light, easy-to-spread formulation
Convenient for treating conditions that present on various parts of the body:

Intertriginous areas
Hair bearing areas
Over large areas
On the face
WORKS FAST - Often within the First Week
Patients experience fast relief of pruritus and other symptoms*
Treats 5 Different Skin Infections from 6 Different Pathogens1,2
Tinea pedis, tinea cruris and tinea corporis due to:

Trichophyton rubrum
Trichophyton mentagrophytes
Epidermophyton floccosum
Microsporum canis

Tinea versicolor due to:
Candidiasis due to:
Loprox® Topical Suspension Kit contains:
Rehyla® Hair + Body Cleanser for Patient Convenience
Gentle daily cleansing for the scalp and body
Unique cosmetic formula containing natural botanical ingredients including chamomile, salicylic acid and hyaluronic acid
Dermatologist developed and tested

Dye, fragrance, paraben and sulfate free
IMPORTANT PRODUCT INFORMATION
Loprox® (ciclopirox) Topical Suspension, 0.77% is indicated for the topical treatment of the following dermal infections: tinea pedis, tinea cruris, and tinea corporis due to Trichophyton rubrum, Trichophyton mentagrophytes, Epidermophyton floccosum, and Microsporum canis; candidiasis (moniliasis) due to Candia albicans; and tinea (pityriasis) versicolor due to Malassezia furfur. The most common adverse reactions to ciclopirox topical suspension, USP, 0.77% are pruritis and burning. Patients should inform their physician if increased irritation (redness, itching, burning, blistering, swelling or oozing) occurs in the area of application. Loprox® Topical Suspension is contraindicated in individuals with a history of hypersensitivity to any of its components. Not for ophthalmic or vaginal use.
Please see full prescribing information
* Tinea versicolor improvement usually seen in two weeks
1 Ciclopirox Label
2 J Drugs Dermatol. 2016 Feb;15(2 Suppl):s49-55
* Tinea versicolor improvement usually seen in two weeks
Medimetriks Pharmaceuticals, Inc.
383 Route 46 West
Fairfield, NJ 07004-2402 USA