Uramaxin® GT Kit & Uramaxin® GT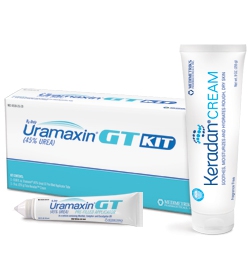 Click Here
to request a
$35 Instant Rebate Card
Save up to $35 per prescription
(good for six (6) prescriptions)
Nail Comprehensive Foot Care
Uramaxin®GT (45% Urea)
Softens thick nails

Reduces the possibility for cracking and splitting that may lead to cuts and ulcers
Prepares the nail for in-office debridement and clipping

Treats

Diseased, damaged and ingrown nails
Corns and calluses

Convenient applicator engineered to help enhance patient compliance

Soft tip provides gentle and accurate delivery to nails and surrounding tissue
Specialized valve technology:

Easy to apply
Provides an air tight seal
Uramaxin® GT Kit Includes:
Keradan® Cream
Unique natural cosmetic moisturizer that minimizes water loss in mild to moderately irritated skin

 Helps soften skin to prevent cracking and fissuring
Optimizes the skin's pH, an essential part of the skin's natural healing process
Elegant formulation is non-greasy and fragrance free
9 oz tube provides patients ample supply
IMPORTANT SAFETY INFORMATION
Uramaxin® GT is for external use only. Avoid contact with eyes, lips or mucous membranes. Transient stinging, burning, itching or irritation may occur and normally disappears after discontinuing the medication. Use as directed.
Please see full prescribing information
Medimetriks Pharmaceuticals, Inc.
383 Route 46 West
Fairfield, NJ 07004-2402 USA