Beser™ Lotion Kit & Beser™ Lotion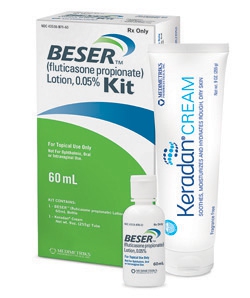 Click Here
to print your
Instant Rebate*
*Maximum benefits apply.
See program rules and eligibility requirements on rebate
(limit of 6 prescriptions)
Once Daily, Moisturizing Steroid Lotion for Atopic Patients 3 Months & Older
Simple.
Once daily

application

Unique,

moisturizing

vehicle

Elegant lotion formulation ideal for

use over large areas
Safe.
Indicated for patients

3 months and older

In clinical studies, proven to be

safe and effective

with minimal adverse reactions
Beser™ Kit includes Keradan® Cream
Keradan® helps keep skin hydrated following a course of treatment with Beser™ Lotion

Ceramide-rich cosmetic formulation minimizes moisture loss to soothe and soften irritated skin
Helps optimize the skin's pH
Elegant, non-greasy and fragrance free cosmetic formulation developed and tested by Dermatologists
IMPORTANT PRODUCT INFORMATION - BESER™ LOTION is a corticosteroid indicated for the relief of the inflammatory and pruritic manifestations of atopic dermatitis in patients 3 months of age and older. BESER™ LOTION is not for ophthalmic, oral or intravaginal use, or for use by patients with a hypersensitivity to any of its components. BESER™ LOTION contains the excipient imidurea which releases formalde-hyde as a breakdown product. Formaldehyde may cause allergic sensitization or irritation upon contact with the skin. Discontinue use if irritation or sensitization develops. Reversible HPA axis suppression and resulting glu­cocorticoid insufficiency can occur during or after withdrawal of treatment. Minimize risk by mitigating the risk factors and use product as recommended. Modify use if HPA axis suppression is suspected. In clinical studies, the most common adverse reactions (2%) were burning/stinging at the application site.
Please see full prescribing information
Medimetriks Pharmaceuticals, Inc.
383 Route 46 West
Fairfield, NJ 07004-2402 USA