Morgidox® 1x100 Kit & Morgidox® 2x100 Kit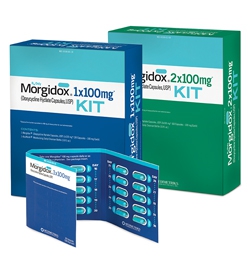 Click Here
to print your
Instant Rebate*
*Maximum benefits apply.
See program rules and eligibility requirements on rebate
(limit of 6 prescriptions)
Morgidox® (Doxycycline Hyclate Capsules, USP)
Enhanced Dosing Flexibility
The Morgidox® family helps address specific patient types, disease severities and dosing regimens with:

100 mg* per day

200 mg* per day

Allows for titrating up or down while helping patients remain compliant
Packaged for Adherence
Easy-to-remember daily dosing may improve patient adherence1

Difficulty remembering whether a dose was taken is the most often patient reported reason for non-adherence2

Easy-to-swallow patient-preferred capsules

66% of patients prefer capsules over other oral dosing forms3
Morgidox® Kits contain Acuwash® for Patient Convenience
Gentle, moisturizing cosmetic cleanser, developed for patients with irritated skin
Contains natural botanical ingredients including Aloe and Green Tea

Aloe provides natural moisturizing
Green tea is a natural antioxidant
IMPORTANT SAFETY INFORMATION
Morgidox® is indicated as adjunctive therapy for severe acne. Morgidox® capsules are contra-indicated in persons who have shown any sensitivity to any of the tetracyclines. THE USE OF DRUGS OF THE TETRACYCLINE CLASS DURING TOOTH DEVELOPMENT (LAST HALF OF PREGNANCY, INFANCY, AND CHILDHOOD TO THE AGE OF 8 YEARS) MAY CAUSE PERMANENT DISCOLORATION OF THE TEETH (YELLOW-GRAY-BROWN). Photosensitivity manifested by an exaggerated sunburn reaction has been observed in some individuals taking tetracyclines. Treatment should be discontinued at first evidence of skin erythema. Concurrent use of tetracycline may render oral contraceptives less effective.
Please see full prescribing information
* Doxycycline hyclate equivalent to 50 mg and 100 mg of doxycycline for oral administration
1 Curr Med Res Opin. 2015 January; 31(1): 145-160.
2 Am J Clin Dermatol. 2014:15(2):87-94.
3 Pharm World Sci. 2001 Oct;23(5):185-8.
Medimetriks Pharmaceuticals, Inc.
383 Route 46 West
Fairfield, NJ 07004-2402 USA