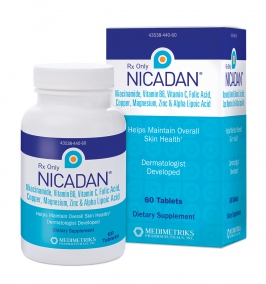 Click Here
to print your
Instant Rebate*
*Maximum benefits apply.
See program rules and eligibility requirements on rebate
(limit of 6 prescriptions)
Unique Dietary Supplement Developed by Dermatologists to Help Patients with Inflammatory Skin Conditions Maintain Healthy Skin*
Developed with:
Niacinamide
Demonstrates anti-inflammatory effects by blocking iodides that can lead to, or worsen, acne1
May reduce facial sebum production2
Helps improve skin barrier function by decreasing water loss3
Vitamin C
Demonstrates anti-inflammatory properties.4
Natural antioxidant slows the rate of free-radicals that damage collagen and cause skin dryness
May help build collagen protein in connective tissue5,6
Vitamin B6
Plays a vital role in proper skin function

Commonly deficient in patients with inflammatory skin conditions
Zinc Gluconate
Important to normal skin function and overall skin health

Deficiency may lead to a variety of inflammatory skin problems

Better absorbed than zinc oxide
Helps regenerate skin cells7
Alpha Lipoic Acid
Potent antioxidant that supports metabolic function
Helps regenerate vitamin C for further use after eradicating free radicals8
Folic Acid
Helps ensure proper cell function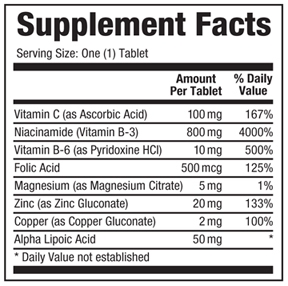 Other Ingredients:  Microcrystalline Cellulose, Povidone, Hypromellose, Croscarmellose Sodium, Polydextrose, Talc, Magnesium Sterate Vegetable, Vegetable Stearine, Red Beet Powder, Titanium Dioxide, Maltodextrin and Triglyerides.
Nicadan® is free of yeast, wheat, dairy, egg, soy, gluten, artificial color or flavors, added sugar, starch and preservatives.
IMPORTANT SAFETY INFORMATION
If pregnant or lactating, consult your physician before taking this product. There have been reports of GI upset, nausea, vomiting, heartburn, diarrhea, dizziness, drowsiness or headache with large doses of niacinamide. Rarely, niacinamide in doses of 3 grams/day or more has been associated with elevated liver function tests.
There are case reports in the literature indicating that niacinamide may reduce the hepatic metabolism of primidone and carbamazepine. Individuals taking these medications should consult their physician. Individuals taking anti-diabetes medications should have their blood glucose levels monitored.
Please see full prescribing information
* This statement has not been evaluated by the Food and Drug Administration. This product is not intended to diagnose, treat, cure or prevent any disease.
Niren NM (2006). "Pharmacologic doses of nicotinamide in the treatment of inflammatory skin conditions: a review". Cutis 77 (1 Suppl): 11–6. PMID 16871774.
http://dermnetnz.org/treatments/nicotinamide.html
a. Kolbach DN, Remme JJ, Bos WH, Jonkman ME, De Jong MCJM, Pas HH, Van Der Meer JB. Bullous pemphigoid successfully controlled by tetracycline and nicotinamide. Br J Dermatol 1995: 133. 88-90.
b. Draelos ZD, Matsubara A, et al. The effect of 2% niacinamide on facial sebum production. J of Cosmetic and Laser Therapy 2006; 8: 96-101.
c. Bissett DL, Oblong JB et al. Niacinamide: A B vitamin that improves aging facial skin appearance. Dermatol Surg 2005; 31: 860-865.
d. Hakozaki T; Minwalla L; Zhuang J et al. The effect of niacinamide on reducing cutaneous pigmentation and suppression of melanosome transfer. British J. Of Dermatol 2002; 147: 20-31.
Bissett DL, Miyamoto K, Sun P, et al. Topical niacinamide reduces yellowing, wrinkling, red blotchiness, and hyperpigmented spots in aging facial skin. Int J Cosmet Sci 26(5): 231-8 (2004 Oct).
A. Farris PK. Topical vitamin C: a useful agent for treating photoaging and other dermatologic conditions. Dermatol Surg 2005; 31: 814-817.
http://www.vitamins-supplements.org/vitamin-C.php
http://www.webmd.com
http://health.howstuffworks.com/skin-care/information/nutrition/zinc-benefit-skin2.htm#medlineplus
http://www.vitamins-supplements.org/alpha-lipoic-acid.php
Medimetriks Pharmaceuticals, Inc.
383 Route 46 West
Fairfield, NJ 07004-2402 USA