Rosadan® Gel Kit & Rosadan® Gel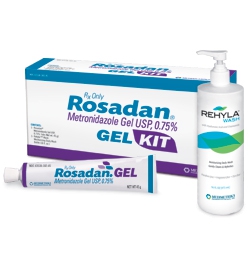 Click Here
to print your
Instant Rebate*
*Maximum benefits apply.
See program rules and eligibility requirements on rebate
(limit of 6 prescriptions)
Custom Tailored for Your Rosacea Patient
Rosadan® (Metronidazole Gel USP, 0.75%) Gel and Rosadan® (Metronidazole Topical Cream, 0.75%) Cream
Indicated for the treatment of inflammatory papules and pustules of rosacea
Specially developed formulas ideal for treating the face

Elegant formulations spread easily
Rosadan® Gel is engineered for patients with oily skin
Rosadan® Cream is engineered for patients who may benefit from additional emollients
Rosadan® Gel Kit Includes:
Rehyla® Wash
Unique cosmetic wash containing hyaluronic acid, chamomile and niacinamide

Gentle formula developed for patients with sensitive, irritated skin

Dermatologist-tested formulation is non-irritating

Dye, fragrance, paraben and sulfate free

May help reduce the appearance of redness
Offers unique conditioning properties
IMPORTANT SAFETY INFORMATION
Rosadan® (Metronidazole Topical Cream, 0.75%) and Rosadan® (Metronidazole Gel USP, 0.75%) are indicated for topical application in the treatment of inflammatory papules and pustules of rosacea. The following adverse events have been reported with the topical use of metronidazole: burning, stinging, erythema, skin irritation, pruritis and worsening of rosacea. Additional adverse experiences include dryness, transient redness, metallic taste, tingling or numbness of extremities and nausea. Rosadan® Cream and Rosadan® Gel are contraindicated in individuals with a history of hypersensitivity to metronidazole or any other ingredients in this formulation. Not for ophthalmic or vaginal use.
Please see full prescribing information
Medimetriks Pharmaceuticals, Inc.
383 Route 46 West
Fairfield, NJ 07004-2402 USA