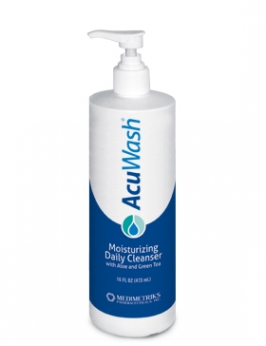 AcuWash®
Gentle Moisturizing Cosmetic Cleanser Containing Natural Aloe and Green Tea
Acuwash® is a moisturizing cleanser that can be used daily to deeply clean and moisturize sensitive skin. Acuwash® contains the natural ingredients of aloe and green tea which provide the important benefits to maintaining healthy looking skin. Acuwash was developed and tested by leading Dermatologists.
Ingredients: Aqua (Water), Cetyl Alcohol, Disodium Oleamido MEA-Sulfosuccinate, Glyceryl Stearate/PEG 100 Stearate, Laureth-12, Sodium Coco-Sulfate, Sodium Lauroamphoacetate, Propylene Glycol, Aloe Barbadensis Leaf Juice, Glycerin, Carbomer Interpolymer Type A, Magnesium Aluminum Silicate, Camellia Sinensis Leaf Extract, Edetate Disodium, Xanthan Gum.
Size: 16 fl. oz.
Available for purchase in the U.S. only.
Free shipping.