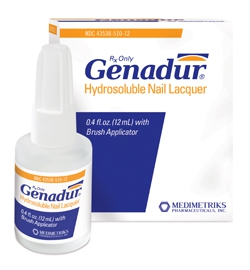 Click Here
to print your
Instant Rebate*
*Maximum benefits apply.
See program rules and eligibility requirements on rebate
(limit of 6 prescriptions)
Genadur® (hydrosoluble nail lacquer)
Indicated to protect intact or damaged nails from the effects of moisture, friction (rubbing) or shear (tearing), relieving symptoms and signs of nail dystrophy (i.e. nail splitting and fragility).
Proven to:
Strengthen fragile nails
Improve nail appearance
Reduce nail splitting
Avoid damage caused by nail solvents
Formulated to address fragile, brittle or split nails caused by:
Onychomycosis
Environmental factors
Chemical exposure to detergents, solvents, and cleansers
Clinical Results:
Lamellar Splitting1
Genadur® showed 85% reduction in patients reporting lamellar splitting of treated nails, while no significant change was observed in untreated controls
Significant reduction of severity in nail splitting 
Longitudinal ridges were significantly reduced after only 14 days, despite the harmful effects of solvents
Nail Fragility2
Genadur® showed 90% of cases with 1 grade improvement in nail fragility after 14 days
Longitudinal grooves were significantly reduced (28%) after 14 days
Studies showed a significant decrease of lamellar splitting compared to baseline
GENADUR® IMPORTANT SAFETY INFORMATION
Genadur® is for external use only. Eye contact should be avoided. It is contraindicated in patients with known hypersensitivity to any of the components. RX - Prescription Medical Device: Federal Law restricts this device to sale by or on the order of a physician.
Please see full prescribing information
Journal of American Academy of Dermatology 2005: Vol. 53, October, Brittle Nail System: A Pathogenesis-based Approach with a Proposed Grading System, van de Kerkhof P, Pasch M, Scher R, Kerscher M, Gieler U, Haneke E, Fleckman, P.
Journal of Plastic Dermatology 2006: Vol. 2, n. 1 January-April. Equisetum arvense in a New Transungual Technology Improves Nail Structure and Appearance. Sparavigna A, Setaro M, Genet M, Frisenda L.
This statement has not been evaluated by the Food and Drug Administration. This product is not intended to diagnose, treat, cure or prevent any disease.
Medimetriks Pharmaceuticals, Inc.
383 Route 46 West
Fairfield, NJ 07004-2402 USA