Neo-Synalar® Kit & Neo-Synalar®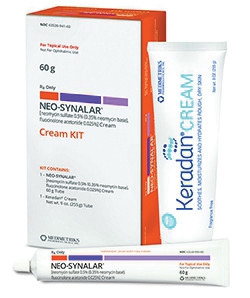 Click Here
to print your
Instant Rebate*
*Maximum benefits apply.
See program rules and eligibility requirements on rebate
(limit of 6 prescriptions)
Unique Steroid-Antibiotic Combination Available with ONE Prescription
Neo-Synalar® [neomycin sulfate 0.5% (0.35% neomycin base), fluocinolone acetonide 0.025%] Cream
The Presence of Infection can be Difficult to Diagnose1
Patients with atopic dermatitis are predisposed to secondary bacterial infection, including S. aureus1

S. aureus can be present in more than 90% of adult patients with atopic dermatitis on skin culture, as opposed to an estimated 5% of the population without dermatitis2

Clinical appearance of active localized infection and active atopic dermatitis can be difficult to distinguish

Clinical signs, such as crusting, can be present in localized infection and active dermatitis1
Treat 2 Problems with 1 Therapy
Synalar® (fluocinolone acetonide) Cream, 0.025%

Class 5 topical steroid for the treatment of mild to moderate dermatoses
Provides relief from inflammation associated with pruritus
Gentle, water-washable formulation ideal for use on the face and other sensitive areas
Neomycin sulfate 0.5% (0.35% neomycin base)

Bactericidal and interferes with protein synthesis3
Antibacterial activity against a number of gram-positive and gram-negative organism susceptible to neomycin, including S. aureus3
Neo-Synalar® Cream Kit includes:
Keradan® Cream

Ceramide-rich cosmetic formulation that helps minimize moisture loss

Helps keep the skin hydrated

Moisturizing is a recommended part of the skin care regimen for atopic dermatitis patients1

Proper moisturizing may also prevent atopic dermatitis flares1

Dermatologist developed and tested

Free of additives, fragrances and perfumes
Elegant and non-greasy


IMPORTANT SAFETY INFORMATION
Neo-Synalar® [neomycin sulfate 0.5% (0.35% neomycin base), fluocinolone acetonide 0.025%] Cream is indicated for the treatment of corticosteroid-responsive dermatoses with secondary infection. It has not been demonstrated that this steroid-antibiotic combination provides greater benefit than the steroid component alone after 7 days of treatment. Neo-Synalar® Cream is contraindicated in those patients with a history of hypersensitivity to any of the components of the preparation. There are articles in the current medical literature that indicate an increase in the prevalence of persons sensitive to neomycin.

Prolonged use may produce reversible HPA axis suppression. Systemic absorption of topical corticosteroids has produced a reversible hormone disorder called Cushing's syndrome, hyperglycemia, and glucosuria in some patients, including children. Children may absorb proportionally larger amounts of topical corticosteroid and thus be more susceptible to systemic toxicity. Administration of topical corticosteroids to children should be limited to the smallest amount necessary.

The treated skin area should not be bandaged or otherwise covered or wrapped so as to be occlusive, unless directed by the physician. Do not use tight-fitting diapers or plastic pants on a child being treated in the diaper area, as these garments may constitute occlusive dressings. Patients should report any signs of local adverse reactions, especially under occlusive dressings. Local adverse reactions reported with topical corticosteroids include burning, itching, irritation, inflammation, dryness, infections, excessive hair growth, acne-like lesions, lightened skin color, allergic contact dermatitis, breakdown of the skin, stretch marks and heat rash. If irritation develops, discontinue use and institute appropriate therapy. If local infection should continue or become severe, or in the presence of systemic infection, appropriate systemic antibacterial therapy, based on susceptibility testing, should be considered. Because of the concern of nephrotoxicity and ototoxicity associated with neomycin, this combination product should not be used over a wide area or for extended periods of time.

Neo-Synalar® Cream is for external use only. Avoid contact with eyes. This product should not be used in the external auditory canal if the eardrum is perforated. This safety information is not all-inclusive.
Please see full prescribing information
Eichenfeld, et al. "Guidelines of care for the management of atopic dermatitis Section 2. Management and treatment of atopic dermatitis". J Am Acad Dermatol Volume 71, Issue 1, Pages 116-132, July 2014.
Sidbury, et al. "Guidelines of care for the management of atopic dermatitis Section 3. Management and treatment with phototherapy and systemic agents". J Am Acad Dermatol Volume 71, Issue 1, Pages 116-132, July 2014.
Bakker, Evert P., "Aminoglycoside and aminocyclitol antibiotics: hygromycin B is an atypical bactericidal compound that exerts effects on cells of Escherichia coli characteristic for bacteriostatic aminocyclitols". Journal of General Microbiology (1992), 138, 563-569.
Medimetriks Pharmaceuticals, Inc.
383 Route 46 West
Fairfield, NJ 07004-2402 USA