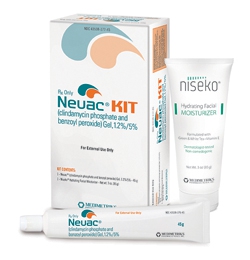 Click Here
to print your
Instant Rebate*
*Maximum benefits apply.
See program rules and eligibility requirements on rebate
(limit of 6 prescriptions)
The New Way to Treat Inflammatory Acne
Neuac® (clindamycin phosphate and benzoyl peroxide) Gel, 1.2%/5%
Combines 1.2% clindamycin phosphate (equivalent to 1% clindamycin) and 5% benzoyl peroxide
Clinical studies demonstrate that the combination of 1% clindamycin and 5% benzoyl peroxide applied once daily for 12 weeks:

Is more effective than either ingredient alone in the treatment of inflammatory acne1
When compared to adapalene gel 0.1%, in an assessor-blind randomized study, the combination of clindamycin phosphate and benzoyl peroxide was found to be more effective and well-tolerated

1*

Water-based, aqueous vehicle is well-tolerated and may enhance patient compliance

2
Vehicle is calibrated for acne patients and is elegant and non-greasy
IMPORTANT SAFETY INFORMATION
INDICATION: NEUAC® (clindamycin phosphate and benzoyl peroxide) Gel, 1.2%/5% is indicated for the topical treatment of inflammatory acne vulgaris.
IMPORTANT SAFETY INFORMATION FOR NEUAC® Gel: NEUAC® Gel is contraindicated in patients who have shown hypersensitivity to any of its components or lincomycin. NEUAC® Gel is contraindicated in patients with a history or regional enteritis, ulcerative colitis, or antibiotic –associated colitis.
ORALLY AND PARENTERALLY ADMINISTERED CLINDAMYCIN HAS BEEN ASSOCIATED WITH SEVERE COLITIS WHICH MAY RESULT IN PATIENT DEATH. USE OF THE TOPICAL FORMULATION OF CLINDAMYCIN RESULTS IN ABSORPTION OF THE ANTIBIOTIC FROM THE SKIN SURFACE. DIARRHEA, BLOODY DIARRHEA, AND COLITIS (INCLUDING PSEUDOMEMBRANOUS COLITIS) HAVE BEEN REPORTED WITH THE USE OF TOPICAL AND SYSTEMIC CLINDAMYCIN. DIARRHEA, COLITIS AND PSEUDOMEMBRANOUS COLITIS HAVE BEEN OBSERVED TO BEGIN UP TO SEVERAL WEEKS FOLLOWING CESSATION OF ORAL AND PARENTERAL THERAPY WITH CLINDAMYCIN. (See full prescribing information for additional information)
Anaphylaxis, as well as allergic reactions leading to hospitalization, has been reported in postmarketing use with clindamycin phosphate and benzoyl peroxide gel, 1.2%/5%. Because these reactions are reported voluntarily from a population of uncertain size, it is not always possible to reliably estimate their frequency or establish a causal relationship to drug exposure.
Adverse reactions may include erythema, peeling, burning and dryness. Patients should report any signs of local adverse reactions to their physician. Patients who develop allergic symptoms such as severe swelling or shortness of breath should discontinue use and contact their physician immediately.
Concomitant topical acne therapy should be used with caution because a possible cumulative irritancy effect may occur, especially with the use of peeling, desquamating, or abrasive agents.
Clindamycin- and erythromycin-containing products should not be used in combination. In vitro studies have shown antagonism between these two antimicrobials. The clinical significance of this in vitro antagonism is not known.
Excessive or prolonged exposure to sunlight should be limited. To minimize exposure to sunlight, a hat or other clothing should be worn.
NEUAC® Gel should be given to a pregnant woman only if clearly needed.
For dermatologic use only; not for ophthalmic use. Avoid contact with eyes and mucous membranes. This safety information is not all-inclusive.
Please see full prescribing information
British Journal of Dermatology - Volume 158, Issue 1, pages 122–129, January 2008.
* The number of patients who reported at least one treatment-emergent adverse event was distributed evenly between the treatment groups.
Neuac® package insert.
Medimetriks Pharmaceuticals, Inc.
383 Route 46 West
Fairfield, NJ 07004-2402 USA