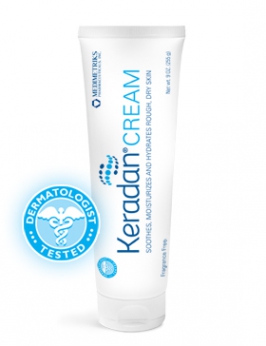 Keradan® Cream
Elegant Cosmetic Formulation Soothes, Moisturizes and Hydrates Mild to Moderately Irritated Skin
Keradan® Cream is specially formulated to soothe, moisturize and hydrate mild to moderately irritated skin. Keradan® Cream helps optimize the skin's pH, which is an essential part of the skin's natural healing process. It's unique hydrating properties help minimize moisture loss to leave the skin feeling soft and smooth, which is ideal for skin left dry and irritated by soaps, detergents and other irritants. Keradan® Cream is Dermatologist-tested and fragrance free.
Ingredients: Purified Water, Cetearyl Alcohol, Caprylic/Capric Triglyceride, Glycerin, Cetyl Alcohol, Petrolatum, Ceteareth 20, Caprylyl Methicone, Decamethylcyclopentasiloxane, Octamethylcyclotetrasiloxane, Stearic Acid, Paraffin, Polysorbate 20, 2-Phenoxyethanol, Silicone Gel, Xanthan Gum, Cholesterol, Allantoin, Beeswax, Methylparaben, Hydro-genated Olive Oil, Linoleic Acid, Triethanolamine, Edetate Disodium, Squalane, Tocopheryl Acetate, Microcrystalline wax, Olea Europaea (olive) Fruit Oil, Aluminum Acetate, Aluminum Sulfate, Calcium Acetate, Sodium Lauroyl Lactylate, Sodium Polyacrylate, Linolenic acid, Olea Europaea (olive) Unsaponifiables, Sodium Hyaluronate, Ceramide 3, Ceramide 6 II, Phytoshingosine, Tocopherol, Carbomer, Ceramide I.
Size: 9 oz.
Available for purchase in the U.S. only.
Free shipping.