Clindacin® PAC & Clindacin•P®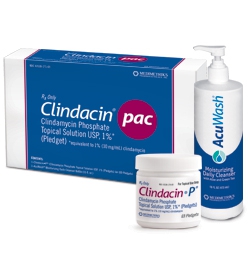 Click Here
to print your
Instant Rebate*
*Maximum benefits apply.
See program rules and eligibility requirements on rebate
(limit of 6 prescriptions)
A Convenient "PAC" to Treat Acne
EFFICACY
Proven effective with a well-established safety profile

Clindamycin is the most widely prescribed topical antibacterial agent for acne
Over 1 million prescriptions annually by Dermatologists1
CONVENIENCE
Easy-to-use pad delivery

Convenient application for treating acne on shoulders, chest and back
Soft pad ideal for use on the face

Will not bleach clothing
Clindacin® PAC Includes:
Acuwash®

Gentle moisturizing cosmetic cleanser ideal for sensitive skin
Contains natural Aloe and Green Tea
Aloe provides natural moisturizing and hydrating properties

Green Tea is a natural antioxidant
IMPORTANT SAFETY INFORMATION
Clindacin•P® is indicated in the treatment of acne vulgaris. Clindacin•P® is contraindicated in patients with a history of hypersensitivity to clindamycin or lincomycin; regional enteritis or ulcerative colitis; or antibiotic-associated colitis. Use during pregnancy only if clearly needed. Diarrhea, bloody diarrhea, and pseudomembranous colitis have been reported with topical clindamycin. Discontinuation is recommended if significant diarrhea develops.
Please see full prescribing information
IMS Health, MAT 2010 data.
Medimetriks Pharmaceuticals, Inc.
383 Route 46 West
Fairfield, NJ 07004-2402 USA