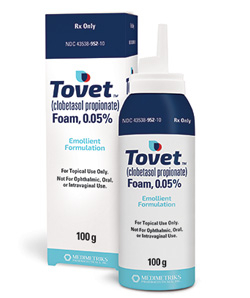 Click Here
to print your
Instant Rebate*
*Maximum benefits apply.
See program rules and eligibility requirements on rebate
(limit of 6 prescriptions)
Super-Potent Steroid in a Soothing Emollient Foam
Helps reduce the itch and inflammation that present in hair-bearing areas or over large areas, including:
Psoriasis

Atopic dermatitis
Emollient Foam Vehicle:
Elegant and non-greasy
Spreads smoothly and easily to the site of inflammation
Softens and soothes dry and irritated skin
Tovet® Kit includes Keradan® Cream
Ceramide-rich cosmetic formulation minimizes moisture loss to soothe and soften irritated skin
Elegant, non-greasy and fragrance-free formulation developed and tested by Dermatologists
Helps optimize the skin's pH
IMPORTANT PRODUCT INFORMATION - Tovet® Foam is indicated for the treatment of inflammatory and pruritic manifestations of corticosteroid-responsive dermatoses in patients 12 years of age or older. 
Tovet® Foam should not be used in the treatment of rosacea or perioral dermatitis, and should not be used on the face or groin, axillae, or other intertriginous areas. If irritation develops, Tovet® Foam should be discontinued and appropriate therapy instituted. Allergic contact dermatitis with corticosteroids is usually diagnosed by observing a failure to heal rather than noting a clinical exacerbation as with most topical products not containing corticosteroids.
The most common adverse reactions (incidence ≥ 1%) are application site atrophy and application site reaction. Clobetasol propionate foam, 0.05% (emulsion) has been shown to suppress the hypothalamic-pituitary-adrenal (HPA) axis. Systemic absorption of clobetasol propionate foam, 0.05% (emulsion) has caused reversible HPA axis suppression with the potential for clinical glucocorticoid insufficiency. Use of topical corticosteroids, including Tovet® Foam, may increase the risk of posterior subcapsular cataracts and glaucoma. Cataracts and glaucoma have been reported postmarketing with the use of topical corticosteroids, including topical clobetasol products.
Please see full prescribing information
Medimetriks Pharmaceuticals, Inc.
383 Route 46 West
Fairfield, NJ 07004-2402 USA