Sumaxin® CP Kit & Sumaxin® Cleansing Pads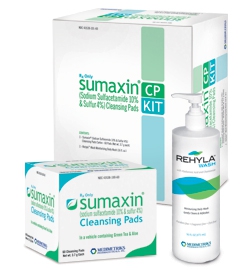 Click Here
to print your
Instant Rebate*
*Maximum benefits apply.
See program rules and eligibility requirements on rebate
(limit of 6 prescriptions)
Designed to Soothe Your Patient's Acne & Rosacea
Sumaxin® (sodium sulfacetamide 10% & sulfur 4%) Cleansing Pads
Indicated for the topical control of acne vulgaris, acne rosacea and seborrheic dermatitis
Naturally minimized residual sulfur scent
Large, soft pads
Dye-free
Elegant, light-lathering formula for gentle cleansing
Unique vehicle containing natural Green Tea and Aloe
Green Tea

Natural, potent antioxidants

Aloe
Natural moisturizing and hydrating properties
Provides soothing benefits
Convenient, single-use pads
Great for use at home, at work or on-the-go
Each pad is a pre-measured dose
60 pads per prescription

More therapy with one co-pay
Sumaxin® CP Kit Includes:
Rehyla® Wash
Moisturizing cosmetic wash when gentle cleansing is needed
Contains Hyaluronic Acid, Chamomile and Niacinamide in a hydrating Novasome® formulation
Gentle formula developed for patients with sensitive, irritated skin
May help reduce the appearance of redness
IMPORTANT SAFETY INFORMATION
Sumaxin® Cleansing Pads are contraindicated in persons with known or suspected hypersensitivity to sulfonamides or sulfur.  Sumaxin® Cleansing Pads are not to be used by patients with kidney disease. Although rare, topical sodium sulfacetamide may cause local irritation.
Please see full prescribing information
Medimetriks Pharmaceuticals, Inc.
383 Route 46 West
Fairfield, NJ 07004-2402 USA