Synalar® TS Kit & Synalar® Topical Solution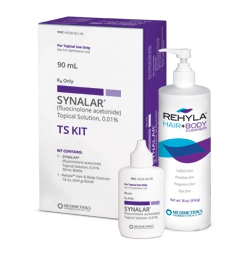 Click Here
to print your
Instant Rebate*
*Maximum benefits apply.
See program rules and eligibility requirements on rebate
(limit of 6 prescriptions)
Water-washable Steroid Therapy Ideal for the Scalp and Hair-bearing Areas
Synalar® (fluocinolone acetonide) Topical Solution, 0.01%
Class 6 topical steroid with an established history of safety and efficacy
Helps reduce the itch and inflammation associated with:

Seborrheic Dermatitis
Eczema
Atopic Dermatitis
Contact Dermatitis
Psoriasis

Developed with the patient in mind:

Elegant and non-greasy
Spreads smoothly and easily through the hair
Formulated for intertriginous areas:

Under the arm or in the groin
Between skin folds, fingers, or toes
Dries quickly

Ideal for patients with irritated skin

Alcohol free and sulfate free
Safe for clothing; non-staining formulation
Synalar® TS Kit Includes:
Rehyla® Hair & Body Cleanser
Gentle cosmetic cleanser developed for patients with sensitive, irritated skin

Designed for use on the scalp and body

Contains:

Salicylic acid - helps leave hair manageable and soft
Hyaluronic acid - hydrates and conditions
Chamomile - offers soothing properties

Developed and tested by Dermatologists

Sulfate, dye, fragrance and paraben free
IMPORTANT SAFETY INFORMATION
Synalar® (fluocinolone acetonide) Topical Solution, 0.01% is indicated for the relief of the inflammatory and pruritic manifestations of corticosteroid-responsive dermatoses. Synalar® Topical Solution is contraindicated in those patients with a history of hypersensitivity to any of the components of the preparation. Prolonged use may produce reversible HPA axis suppression.
Systemic absorption of topical corticosteroids has produced a reversible hormone disorder called Cushing's syndrome, hyperglycemia, and glucosuria in some patients, including children. Children may absorb proportionally larger amounts of topical corticosteroids and thus be more susceptible to systemic toxicity. Administration of topical corticosteroids to children should be limited to the smallest amount necessary. The treated skin area should not be bandaged or otherwise covered or wrapped so as to be occlusive, unless directed by the physician. Do not use tight-fitting diapers or plastic pants on a child being treated in the diaper area, as these garments may constitute occlusive dressings. Patients should report any signs of local adverse reactions, especially under occlusive dressings. Local adverse reactions reported with topical corticosteroids include burning, itching, irritation, inflammation, dryness, infections, excessive hair growth, acne-like lesions, lightened skin color, allergic contact dermatitis, breakdown of the skin, stretch marks and heat rash. If irritation develops, topical corticosteroids should be discontinued and appropriate therapy instituted. Synalar® Topical Solution is for external use only. Avoid contact with eyes. This safety information is not all-inclusive.
Please see full prescribing information
Medimetriks Pharmaceuticals, Inc.
383 Route 46 West
Fairfield, NJ 07004-2402 USA